How To Layer Area Rugs On Carpet
The next thing you do after having your hard surface floors installed is to find that perfect area rug to complete your room. But, if you have wall-to-wall carpet in a room, you may not have even considered adding an area rug.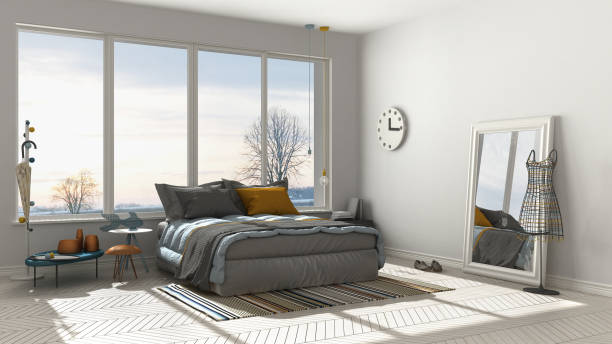 After all, carpeting gives you softness and comfort underfoot, warmth, and reduces noise, all benefits of placing an area rug on flooring such as hardwood, laminate, vinyl, or tile. It may seem redundant to add an area rug. So, it may surprise you to find out it's not.
An area rug is a great addition to any room, no matter the type of flooring, and that includes carpet. So, what are the benefits to adding an area rug to carpet?
Area rugs add extra softness and comfort underfoot, provide extra warmth, and help reduce noise, of course, and they also add style, design flare, color, textures, and help tie your space together. Area rugs are also easy to change seasonally or to change out to update or refresh your style.
We carry a large assortment of carpet and area rugs so that you can mix and match to combine a space that is uniquely yours.
Choose Contrasting Colors and Patterns
In interior design, it's always good practice to choose contrasting colors and patterns to create visual interest, but it becomes even more important when layering a rug on carpet. Most likely, your wall-to-wall carpet will be a shade of neutral, whether you prefer grays, browns, or creams. So, your area rug is a chance to bring your accent color into your flooring. If your carpet is a light color, choose a dark or bold area rug. If your carpet is a richer color, go for a lighter or more neutral rug. If your carpet is a solid color, you may want a patterned rug to create a focal point. If you have a patterned carpet, choose a solid-colored rug to create balance.
Create Textural Interest
Texture is a design element that should not be overlooked in your home. Layering an area rug on carpet will create textural interest in your room. Generally, wall-to-wall carpet is short-pile or looped so you'll want an area rug that is thick and luxurious to add softness and elegance. If you have a room with plush carpet, you'll want a woven rug or a shorter-pile option to create contrast. If you have a super soft type of carpet or long-pile carpet, you may want to skip the rug all together to avoid bunching, which is a trip hazard.
Consider Shape and Size
Just like when buying a rug for a hard surface floor, you need to consider the shape and size of your rug before layering it on carpet. You'll want to avoid floating rugs and opt for a size and shape that can sit under furniture. Rugs are great to define a space within a room, such as the seating area within a living room or den, or under the table in your dining room. You may also opt for a circular or oval rug to help add variety to a room.
Refresh Your Style
Area rugs are a great way to update your room and refresh your style without replacing your flooring. Flooring is an investment that lasts decades. So, choosing a neutral carpet, allows you to add rugs and change them out more frequently for a new look without a complete remodel. You can also change out rugs seasonally. For example, during the summer you may want something lighter and brighter, while in the fall you may want a rug that is darker and warmer. Layering area rugs on carpet allows you this flexibility.
No matter your flooring type, adding an area rug is always a good idea. Layering an area rug on carpet can add visual interest through colors, patterns, styles, and textures. It is also easy to switch out your area rugs, meaning you can change your look with each passing season. Depend on us at Hill's Interiors in Belle Fourche, SD to help you find the perfect carpet and area rug for your room.