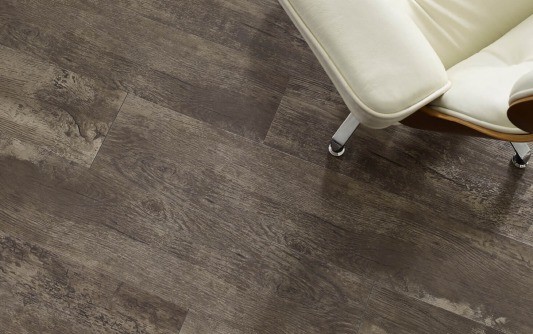 Daily care & maintenance
As far as daily care and maintenance is concerned, vinyl flooring is one of the easiest flooring solutions to care for. It is waterproof, durable, and built to withstand all of the activity in a busy household with pets and children alike. However, you'll want to incorporate a simple sweeping and vacuuming routine to keep it clean. You can wet mop your vinyl, too! You can also consider some preventative maintenance, such as removing shoes before walking across your flooring (especially high heels!) and keeping pets' nails trimmed.
Dealing with spills
While vinyl is resistant to moisture and staining, you'll still want to be proactive when it comes to addressing spills and messes. Simply blot up any basic liquid spill (wine, juice, milk, and similar) with a clean, dry cloth. Be sure to thoroughly dry your flooring afterwards. For tougher stains, you'll want to consult your manufacturer's care guidelines. 
If your flooring needs more than just a dry surface clean, use a manufacturer-approved cleaning solution and follow their guidelines. For most cleaning solutions, you'll just need to spray and wipe dry using a clean cloth.