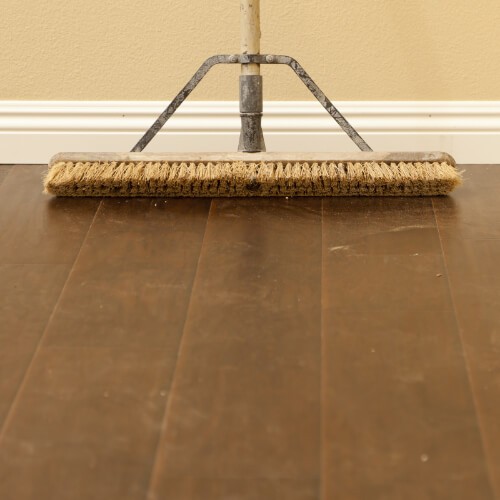 Daily care
Your everyday care and maintenance routine should include sweeping, vacuuming, and dry mopping your hardwood flooring. Don't wet mop, as hardwood is prone to warping, cracking, and cupping. Make sure to check with your manufacturer's care and maintenance guide for their list of approved vacuum cleaners before caring for your flooring. If your flooring needs more than just a dry surface clean, use a manufacturer-approved cleaning solution and follow their guidelines.
If you need a periodic deep clean, hire a local professional floor cleaning company. For recommendations, speak with any of our Hill's Interiors representatives!
Preventative maintenance
Solid and engineered hardwood flooring benefit from preventative maintenance. Some examples of good preventative care include frequently trimming your pet's nails, having family & guests remove high heels and heavy boots before walking across the floor, and using of a humidifier and dehumidifier to help regulate your home's climate. Additionally, you should protect your floors using entryway rugs and doormats. To avoid the sorts of dents or indentations that heavy furniture can leave over time, buy floor protectors.
Layered looks are always in style, and you can add an area rug on top of your hardwood flooring to not only enhance your design but also to protect the surface underneath.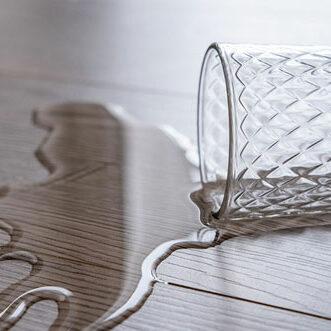 Dealing with spills
Blot up liquid spills as soon as they happen to prevent damage. Use a manufacturer-approved wood surface cleaner only. Never use abrasive steel wool or harsh chemicals. For tough residues or stains, be gentle and consult your manufacturer's guidelines. Never use any type of buffing machine on your hardwood when cleaning.